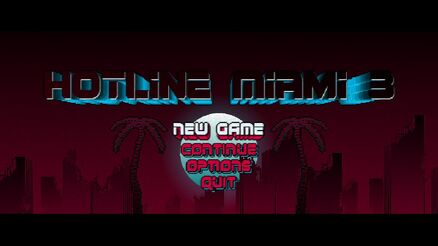 Hotline Miami 3 is a mock main menu screen of an apparent sequel to Hotline Miami 2: Wrong Number which has been taped over with Wrong Number. The title is written in a futuristic font and the background features the bombed out ruins of Miami and "digital" palm trees. The music is a sample from Perturbator's "Welcome Back" from the science fiction album Dangerous Days. It is effectively a punchline to the events of Apocalypse mocking the idea of ever making an actual official sequel to Wrong Number.
Trivia
[
]
Dennis Wedin has joked that Hotline Miami 3 was "taped over" with Wrong Number because it sucked.
Dennaton advertised the Level Editor as a tool for players to make their own "Hotline Miami 3." Notably, every custom campaign created in the editor ends with the alarms and white out from Apocalypse.
On February 28th, 2017, @HotlineMiami confirmed that Hotline Miami 3 is not happening. [1]