The Acado GT is a Vehicle that appears in Hotline Miami, and Hotline Miami 2: Wrong Number.
Hotline Miami Edit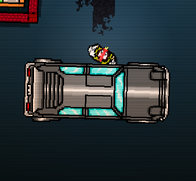 The
Car
is
Jacket's
main trainsportation device in the game. After every phone call, Jacket uses it to drive to his destination. Every main
chapter
(except Chapter 12, Trauma, and the Final Chapter, Showdown) ends with Jacket driving home to his apartment building.
After Trauma, the car has been vandalized and will remain in that state for the duration of the game. It has 4 broken windows, 3 broken lights, various dents and the door on the driver side is missing. Also, on the hood of the car the word 'WHORE' is written in graffiti. This could be a jab at Jacket's dead girlfriend.
Hotline Miami 2: Wrong NumberEdit
The Acado GT is a placeable vehicle in the Level Editor, and appears in The Henchman's Level No Mercy in a black paint scheme.
Since Jacket has made his return in Hotline Miami 2: Wrong Number in the Level Editor, the Acado GT also returns as his method of transportation.
Dennis Wedin stated that the car's design is a mix of multiple cars to avoid legal action from any automakers. He gave the car the name "ACADO GT". The design of the car closely resembles a 1985 Toyota Supra, but with the addition of gull-wing doors, rear window shutters, and a silver finish reminiscent of a DeLorean DMC-12, which has led some players to think it was such. [1]
The "D.W" graffiti is likely an inside joke - a reference to Dennis Wedin, the game's main artist (who, in a sense, was the one who "vandalized" the car).
The Acado GT appears as an Easter Egg in Death Skid Marks a 2014 rogue-like indie game.

The Acado GT in Death Skid Marks also has 4 seats, however this is non-canon.
References
Edit
↑ The Car :: Hotline Miami General Discussions. Comment #6, posted by Dennis Wedin on 29 November 2012. Retrieved 13 May 2015. "ok.. so the car... to be safe we didn't get sued by any carcompany i mixed a bunch of cars i love. the doors are a delorean but that is all.. as mentioned above deloreans don't have rise highlights.. that is a toyota! i actually named my car just for the fun of it! ACADO GT ;) "
Community content is available under
CC-BY-SA
unless otherwise noted.